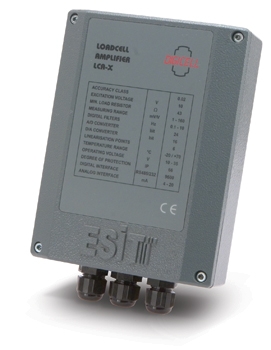 Explanation:
LCA-X load cell amplifiers weigh various tanks and similar units, and enable remote monitoring of all measurements in the most cost-effective way possible.
Weights of one or more units being weighed by the load cells can either be measured by the LCA-X devices in the measurement field and they can be monitored via a remote computer. The amplifier itself does not have a display.
LCA-X distinguishes itself by enabling computerized setup of all parameters through the Modbus communication protocol. Remote access to and setup of parameters are made possible with the use of the embedded communication protocol, Modbus. This enables monitoring and programming of several LCAs, which are connected to the same communication bus, from a single control point such as a PC or a PLC.
Two WindowsTM based software programs have been developed for communication with the LCA devices. The first one, Dlms_VP (Digital Load Cell Measurement System Virtual Panel) is capable of communicating with only one LCA device and setting up all parameters remotely. Dlms_NW (Digital Load Cell Measurement System Network), on the other hand, gives way to viewing more than one LCA amplifiers at the same time. With Dlms_NW, a multiple number of computers connected over a network can display the same data.
The aluminum cast housing makes the device serviceable even under dusty, humid and corrosive conditions.
Properties:
Dust and moisture resistant, aluminum cast housing
Zeroing within the entire measurement range
Gain adjustment for load cell output
Digital linearization
Digital temperature compensation
Remote access to all internal parameters (Modbus)
Single LCA communication PC program
RS232 / RS485 serial output
Specifications:
Accuracy
Accuracy class (OIML approved)
7000d (III)
Input sensitivity
0.5µV/dijit
Sensitivity
0.003%
Zero and gain stability
3.6ppm/°C
A/D converter
24bit Sigma-Delta
Digital filter
Adjustable numerical filtering
Reading frequency
50Hz
Loadcell
Number of Loadcells allowed
8 (350ohm)
Analog input range
± 160mV/V
Excitation voltage
10V DC
Enviroment
Operating temperature range (OIML approved)
-10°C +40°C
Storage temperature range
-20°C +70°C
Operating voltage and power
10-35V DC - 5W
Operator handling and Display
Keyboard
-
Weight display
-
Function display
-
Program Indicator
-
Housing
Material and protection class
Aluminum, IP66
Weight
1kg
Package weight and dimensions
1.1kg, 15x24x6cm
Communication

Standard

|

Optional

Serial communication output

RS232 / RS485

|

-

Parallel printer output

-

|

-

Binary (BCD) output

-

|

-

Remote display output

-

|

-

Digital input / output

-

|

2 outputs (2A relay)

Analog output

-

|

4-20mA

*BCD and digital input/output options cannot be used at the same time.
Blueprints:

LCA-X Amplifier Technical Drawing
Areas of Use:
- Tank Weighing Systems
- Overload Control Systems