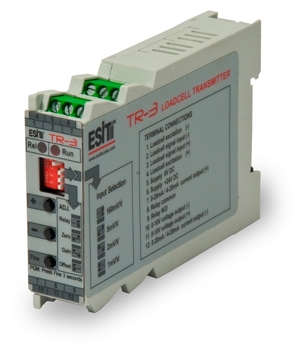 Explanation:
Esit TR3, is a micro processor based transmitter that processes the load cells signals to be used in the industry.
It is used as a signal converter for PLC or similar industrial control devices in weighing, batching, level control and process control applications. With a user settable relay output, it is possible to control stand-alone systems of simple on-off, fill-empty automations. The rail-mounting case forms an integrity with other panel components and eases the connections.
The device which is aimed for industrial environments, features a three-way galvanic isolation. This eliminates the risk of breakdowns of load cells against leakage currents and the output stability is not affected by the electrical noises. Since all adjustments are done via keys, the drifts that may be seen with the potentiometric elements are ceased.
Properties:
Three-way galvanic isolation
Internal power supply for current output eliminates need for external power supply
Zero setting up to 50% of full range
Error indicator in case of over voltage
Relay state indication
0-20 mA Current and 10V Voltage output
Options:
Specifications:
Accuracy
Accuracy class (OIML approved)
-
Input sensitivity
0.01% FS
Sensitivity
0.03% FS
Zero and gain stability
A/D converter
24bit Sigma-Delta
Digital filter
Reading frequency
50Hz-400Hz
Loadcell
Number of Loadcells allowed
8 adet (350ohm)
Analog input range
1 mV/V - 2 mV/V - 5 mV/V - 160mV/V
Excitation voltage
10V
Enviroment
Operating temperature range (OIML approved)
0°C +50°C
Storage temperature range
-20°C +70°C
Operating voltage and power
24V DC (18V … 36 V) - 5W
Operator handling and Display
3 Tactile keys, 4-DIP switches
Keyboard
Dust and humidity-proof membrane keyboard with 20 tact type keys
Weight display
Function display
Program Indicator
Housing
Material and protection class
Rail mounted plastic, IP20
Weight
0.1kg
Package weight and dimensions
0.2kg, 15x24x6cm
Communication

Standard

|

Optional

Serial communication output

-

|

RS-232

Parallel printer output

-

|

-

Binary (BCD) output

-

|

-

Remote display output

-

|

-

Digital input / output

1 relay output (2A)

|

-

Analog output

4-20mA / 0-10V

|

-

*Serial communication and digital input/output options can not bu used simultaneously
Blueprints:

TR-3 Amplifier Technical Drawing
Areas of Use:
- Cement & Construction
- Chemistry & Petrochemistry
- Machinery
- Iron & Steel
- Textile