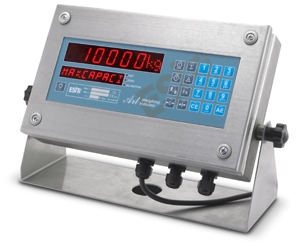 Explanation:
ART-S of the ART series is a compact and state-of-the-art indicator with a stainless steel, water-, dust- and impact-proof housing. With its high level of sensitivity and improved functions, ART-S finds application in food and chemical industries in the presence of severe industrial conditions. It can either be mounted on the scale column or placed on a desk.
Double-display ART-S indicator allows entering data in alphabetical manner, defining codes, reporting, weighing and piece-counting, which make it a truly professional weighing instrument. It can be connected to a computer terminal and various printers.
Properties:
Stainless steel housing suitable for use on scale column or desktop
Capability to indicate weight, message-part and total value on two different displays
6-digit red LED weight display
9-character alphanumerical operator's display
Real-time date and time
Dust and humidity-proof membrane keyboard with tact keys
Alphabetic character entry similar to that in cell phones
Storable settings for piece counting and pricing
Automatic and manual multiple tare
Zeroing, function and adjustment keys
Selectable unit display options: kg / g / t / N / kN / lbs / OZ / m / oC / oF
Selectable language options:TR / EN / RUS / BG / RO
Barcode printing: Code 39 / EAN-13
Battery-protected non-volatile memory
Gain adjustment for load cell output
Calibration key
on/off switch
Remote display output
RS232 serial output
Parallel output to printer
Accessories:
D Remote Display
IC Column
Options:
Specifications:
Accuracy
Accuracy class (OIML approved)
7000d (III)
Input sensitivity
0.5µV/dijit
Sensitivity
0.004%
Zero and gain stability
2.8ppm/°C
A/D converter
24bit Sigma-Delta
Digital filter
Dynamic numerical filtering
Reading frequency
6-50Hz
Loadcell
Number of Loadcells allowed
8 (350ohm)
Analog input range
± 160mV/V
Excitation voltage
10V DC
Enviroment
Operating temperature range (OIML approved)
-10°C +40°C
Storage temperature range
-20°C +70°C
Operating voltage and power
220-240V AC / 12-35V DC - 8W
Operator handling and Display
Keyboard
Dust and humidity-proof membrane keyboard with 20 tact type keys
Weight display
20 mm, 6-digit, 7-segment, red LED
Function display
15 mm, 9-digit, 15-segment, red LED
Program Indicator
25 mm, 8x8 dot matrix LED
Housing
Material and protection class
Stainless Steel, IP65
Weight
4.1kg
Package weight and dimensions
4.6kg, 32x35x17.5cm
Communication

Standard

|

Optional

Serial communication output

RS232

|

RS422 / RS485

Parallel printer output
|

-

Binary (BCD) output

-

|

-

Remote display output
|

-

Digital input / output

-

|

-

Analog output

-

|

-

*BCD and digital input/output options cannot be used at the same time.
Blueprints:

ART-S Indicator Technical Drawing
Areas of Use: